Villas within short drive to all Seminyak facilities – Stone Belig – Price range: U.S. $ 1,000 – U.S. $ 2,000
Villa Asta is a peaceful, Luxurious, five-bedroom residences Designed with the flexibility to accommodate groups of up to 10 adults, or 4 adults accompanied by up to 12 children. With its sophisticated ambience, it is ideally suited for discerning groups of friends or want to WHO Families experience the very best of Bali.
The Villa is nestled in the heart of the Batubelig area, less than 10 minutes walk to the beach on Bali's south-western coast, and just a Few minutes' drive from the trendy Seminyak area, with its glamorous lifestyle and wide choice of top, internationally-acclaimed restaurants.
---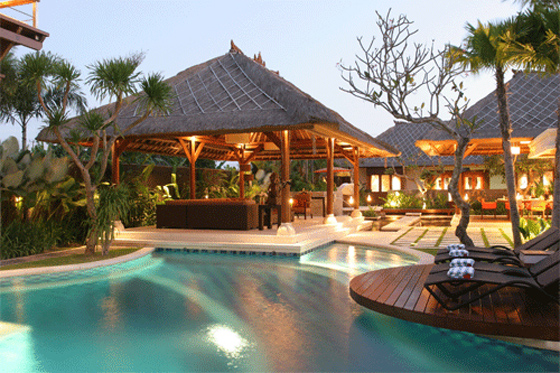 Bordered by rice fields, the setting is Serene and beautiful, within a Neighbourhood That Is Home to Some of the most prestigious properties on the island. On a clear day, the vista is Blessed with the magical insight of the mountains. The Nearby beaches are renowned for on their world-class surf breaks and panoramic coastline views. Batubelig Beach is quiet and peaceful, while Seminyak Beach is the playground of the rich and famous; the spot "Nowhere the local and expatriate Communities gather Every evening to enjoy Bali's Legendary sunsets. Seminyak boasts a plethora of chic cocktail bars, exciting nightclubs, sumptuous Spas, fashionable boutiques and famous restaurants including 'Ku De Ta', 'Kafe Warisan', 'Living Room', 'Hu u' and 'La Lucciola'.
Villa Asta is located 25 minutes from the international airport, and is Also convenient for All of the main shopping malls, Waterbom Park, and tourist attractions Poor 'the dramatic and venerated Tanah Lot sea temple, perched on a craggy wave-lashed rock at the edge of the foaming white surf of the Indian Ocean.
Rooms
Villa Asta was Designed by the internationally-acclaimed architect, Guy Morgan, with sumptuous interiors and landscaping by Dean Kempnich. The property is entered through an ornately Framed wooden doorway, behind Which stands a Balinese Hindu feature Known as the 'aling aling' – a short screen wall devised to protect the property from troublesome and malign Influences, Because evil spirits have great difficulty in turning Corners ! A waterfall cascades into the pool producing a "glass like" view Across the pool to the feature bale. Also this has the effect of producing gasps of surprise and delight from the guests as they want step past the wall and view the properties for the first time. Boasting contemporary minimalist architecture and a tropical open-living concept with Balinese Influences, Villa Asta is comprised of 4 separate living, dining and sleeping pavilions. The warm teak wood floors, richly grained coconut wood Pillars, creamy white Palimanan stone terraces, cool marble fixtures, Slate floors, and random rock walls form the dominant components, juxtaposed against koi (fish) Ponds, water spouts and the natural greenery of Bali's exotic plants.
The open-sided dining pavilion is furnished with a long table Which seats up to 18, boasting padded chairs and an orange theme. Cooled by natural Breezes Also it features a teak wood floor, paddle fans and pendulous lanterns suspended from its pitched roof. Ideal for entertaining, this ample pavilions is linked to a quality music system with surround speakers in the roof.
Adjacent to the dining pavilion is a fully equipped, open-air service kitchen, characterised by a Slate floor, teak cupboards, and black marble work surfaces. Here, the chef will from prepare delicious breakfasts, lunches, dinners, snacks and refreshments, in accordance with guest requirements. The marble bar, complete with bar stools, is a great place for enjoying a casual breakfast or socialising with friends.
Sliding opaque glass doors lead from the dining area into an air-conditioned den. This Cosy snug is furnished with cushioned Deeply Lounges and a big lazy chair. It Also doubles as an office, and is equipped with a built-in desk and fitted cupboards, a computer with Internet access, a printer, a 32-inch plasma TV with Over 25 satellite channels, DVD and a high quality sound system linked to speakers in the living and dining areas. The walls are graced with colorful local artwork and artifacts.
The living pavilion is open on four sides and features a Soaring 'alang alang' Thatched roof supported by coconut wood cream Palimanan Pillars above a stone floor. Ceiling fans and gentle Breezes keep this area cool; it is tastefully furnished with a cushioned rattan sofa, chairs, and a glass topped rattan table. Also this pavilion is linked to the central music system with surround speakers in the roof.
More surprises are in store for guests as they want the make on their way Across the water garden, stepping stones Nowhere large lead over a pond to a timber walkway That forms a bridge over a secluded, large plunge pool separated from the dining and living areas by a low wall. This is the sleeping pavilion, a single-storey building housing 2 air-conditioned double bedrooms, complete with en-suite Bathrooms, and a pool terrace. Each bedroom boasts a marble floor and a Soaring Thatched roof, and Each is furnished with a canopied four-poster king-size bed, a comfortable built-in window seat, an ottoman at the end of the bed, and a 29-inch plasma TV. Each is tastefully decorated with Bold colors, rich fabrics and bright scatter cushions, local artwork and artefacts. Also Each features a dressing room, complete with a vanity mirror, a safe deposit box, and built-in shelves and hanging space. Sliding glass doors lead into the private garden Bathrooms, Each one dominated by a Splendid, oversized, marble bathtub as its central feature, and sheltered from the elements by the Eaves of the roof. There is Also a rainshower in Each bathroom, together with a discreetly positioned toilet, and a white porcelain washbasin atop a marble vanity unit. Bathrooms These are surrounded by garden walls for absolute privacy, and are both neatly Crops with Palms, ferns and irises. The plunge pool Can be accessed by exterior doors Bathrooms, Thus avoiding the need to walk through the bedrooms.
Three further bedrooms and the games room are located at the far end of the garden, away from the main living areas. This two-storey pavilion houses 3 twin bedrooms downstairs. Each of These air-conditioned bedrooms Can accommodate one couple or 2 children on twin beds, plus two more children on rollaway beds. Each bedroom is accessed by sliding glass doors from a colonnaded terrace, and Each boasts a walk-in wardrobe, an en-suite garden bathroom with toilet, shower, washbowl atop a vanity unit, and a traditional 'bath' – an outdoor urn fed by a waterspout.
The semi open-air games room is a huge wooden deck with a Thatched roof. It is cooled by ceiling fans, accessed by an external staircase, and presents beautiful rice field views. The play area is complemented by a kitchenette complete with a fridge and cooking facilities, and a shower room with washbasin and toilet. Equipment includes a music system, a computer (with internet access), DVD, pool table, a ping pong table, and a 42-inch wall-mounted plasma TV housed behind sliding doors within a built-in wooden cabinets. The room is furnished with an Abundance of chairs and a large daybed.
Facilities
The immaculate garden is dominated by a dramatic freeform swimming pool, lined with a patterned mosaic of cobalt blue and sage green tiles. Shallow layers within the pool stair-step down into the deepest 4-metre section That has the pool at a refreshing temperature even in the hottest weather. Sits adjacent to the pool and elegant 3-metre-high, two-storey 'bale' relaxation pavilions. Shaded by a Thatched roof, this elevated, double-decker pavilion Offers spectacular rice field and mountain views. This is the perfect Place for champagne and cocktails at sunset.
Stunningly landscaped around the pool, the soft green lawn is traversed by Slate 'crazy-paving' pathways, and dotted with sweet scented Frangipani, velvety red Flowering 'red dadap' trees, POTS of Bougainvillea, and a bed of gladioli. Soothing ripples originate from a water court, tiny islands support shrubs and lanterns, smooth stone is fashioned Palimanan into a square sun terrace and is furnished with a large chair canopied. A circular timber deck rests Beside the pool, complete with sunloungers and Umbrellas. Every need has been Considered with the provision of an outdoor pool shower, a garden shower and washroom and a hidden wash room accessed by a gorgeous, red and gold, hand-carved Balinese door.
At the far end of the garden is a Walled, grass court, suitable for playing badminton, volley ball, football and other games. There is a private parking area at the front of the property outside the main entrance doors.

Guests at Villa Asta will from be eligible for complimentary membership of The Canggu Club for the duration of on their stay. Located just around the corner, a five minute drive or a mere 20 minutes walk from the villa, this is Bali's first and only international private members' club, offering sports, social and leisure facilities, including a fully equipped, state-of-the art gym, an indoor / outdoor tennis and squash center, a full size football and rugby pitch, a 25-metre swimming pool and a separate children's swimming pool area.
For horse lovers, tea Umalas Equestrian Centre is just A Few kilometres away, and Nirwana Golf Course, Designed by Greg Norman and renowned as one of the best golf courses in Asia, is a 30-minute drive.
Services
Villa Asta is supported by a carefully selected team of highly Trained, friendly staff do on their best-Who Will Ensure That on their guests to experience a Truly enjoyable stay in Bali. The team is headed by a villa manager Who Will oversee and coordinate the staff and property, and is available to assist guests During on their stay. The team Also includes an in-house chef, butlers, housekeepers, gardeners, and security guards. The chef is Trained in the preparation of both local and international cuisine, and is responsible for all the market shopping, in accordance with the needs and the whims of the guests. The housekeepers fulfil all of the housekeeping duties while taking care of the Also laundry daily. Baby-sitting and massage services and the facilities of a car and driver are Also available on request at an extra charge.
Fact Sheet
– 5 bedrooms (two pavilions)
– Dining Pavilion
– Living Pavilion
– Den / Office
– Kitchen
– Games Room with kitchenette and shower and wash room
– 6 Bathrooms and 1 washroom
– Pool Shower
– 4 TVs with satellite channels
– DVD players and sound systems linked to speakers in the living, dining and games areas
– 2 Computers with Internet access
– Telephone line
– Pool Table
– Table Tennis
– Grass games court for badminton, volley ball, football etc
– 5 safety deposit boxes
– Fully equipped kitchen and laundry
– Swimming Pool
– Plunge Pool