Flora
Just like common tropical islands, in Bali you will find a wide variety of plants by surprise. Huge banyan trees are everywhere in the villages by the Bale banjar or pavilion, or temples ground. Tamarind is also a typical Balinese tree mostly found in the north coast, as well as clove at the highlands.
Meanwhile acacia, flame tree and mangrove can be found along the south coastlines. Craft and house use basketries, a dozen species of coconut palms and varieties of bamboos are also everywhere across the island.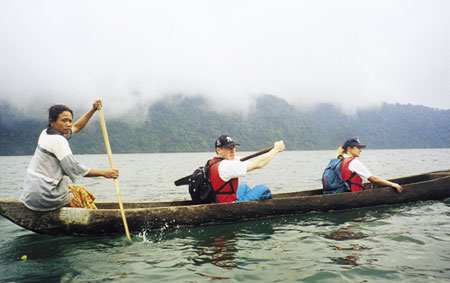 Flowers families are just as surprisingly as the variety of big plants. The most common are hibiscus, bougainvillea, jasmine, and water lilies. Magnolia, frangipani, and a variety of orchids are found in many front yards and gardens, along roads, and in temple grounds. In the day to day life flowers are routinely used as decorations in temples, on statues, as offerings for the gods, and during prayers. Dancers wear blossoms in their crowns, and flowers are worn behind the ear during ceremony sessions.
Fauna
Like some other parts of Indonesia, Bali was home for big mammals such as elephant and tiger, although they no longer exist since early of last century. However, Bali still is rich of wildlife with the existence of various species of monkeys, civets, barking deer and mouse deer. There are 300 species of birds occupy the island including wild fowl, dollar birds, blue kingfishers, sea eagles, sandpipers, white herons and egrets, cuckoos, wood swallows, sparrows, and the endangered Bali starlings. The underwater world or marine life of Bali has been noted as one of the best in the world with various species such as dolphin, shark and sun fish, and some smaller inhabitants like colorful coral fish, small reef fish, and moray eels, as well as crustaceans and sponges.
The existence of these flora and fauna become necessary for the day to day life of Balinese, where ceremonies and rituals always flourish.