Located besides the main building of the shopping center at Discovery Kartika Plaza Street, Kuta, Bali – Resort Room Cafe, it is easy to reach because it is close to Legion Street and 10 minutes from Ngurah Rai Airport. Taking place in front of Kuta Beach, Dar tropical views and excellent coffee make it an ideal place to relax while enjoying your lunch or dinner.
---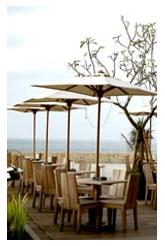 The menu focuses of Bali, West favorites, and some options in Asia. The food here is not only a good show, but it also has a reasonable price for the pleasure of your dining experience. One of the best-selling menu Nasi Dagang Bali is a traditional Balinese rice Accompanied Delaware, roast duck, shrimp skewers, grilled fish, lalapan, sambal and cookies. Chef's table, coffee provides different types of appetizers, soups, sandwiches, pastas, pizzas and grilled menu. And from the corner bar offers a wide range of refreshing mix best collection of famous non-alcoholic wines and cocktails, and fruit juices, and Miscellaneous.
With a capacity up to 250 people, Coffee resort atmosphere offers a choice of place to sit. Our airy and spacious outdoor area with a small pond in the central square becomes the first choice for beach lovers to relax while enjoying the exotic views of Kuta Beach. The inner area of two floors, equipped with a first floor lounge and three tables and tatami mats on the second floor, in a set ethnic and minimalist design that brings a relaxed and sophisticated at the same time sitting here
Opening Hours:
Sunday – Thursday: 10.00 am – 12.00 midnight
Friday – Saturday: 10:00 a.m. to 1:00 a.m.
Special Item

SALAD
– Atmosphere's Chef Salad
– Chef's creation salad, consists of fresh garden vegetables, chicken, egg, beef,  Pastrami & Emmenthaler cheese, with choice of dressing: 1000 Island, Orange, Balsamic, Italian or Mustard Vinaigrette dressing.
– Saute Prawn Angel Hair
– King Prawn Sautee marinated peeled vegetables & angel hair with masculine mix.
– Minute Grill Thai Beef Salad
– Grilled marinated beef tenderloin noodle with fresh vegetables tossed in shallot,  lime and cilantro vinaigrette
– Seared Chicken Arragula
– Seared chicken with red onion rolled and tossed on Arragula young mango leaves,  masculine and sherry vinaigrette
SOUP
– Zuppa Di Pesce Marie
– Italian seafood soup enriched with fresh tomato puree, black olive, saffron & Pernod
– Onion Soup gratin
– Sautee onion in rich beef stock, scented with sherry and cheese crouton
– Tom Yam Goong
– Thai's prawn soup
– Soto Ayam
– Eastern Javanese chicken soup with yellow blend of mild spices Served with boiled rice and egg noodles
Wines Item:

1. Wine by Glass
– Lindemans, Soft Dry Rouge
– Lindemans, Fresh Dry
2. French Red Wine
– Fortant In France, Syrah Rouge
– Robert Skalli, Merlot Reserve
– Robert Skalli, Varietal Syrah Rouge
– Baron & Guestier (B & G), Special Cuvee Rouge
– Baron & Guestier (B & G), Bordeaux Rouge
3. French White Wine
– Robert Skalli, Chardonnay Reserve
– Baron & Guestier (B & G), Special Cuvee Blanc
4. Australian Red Wine
– Penfolds, Bin 389 Cabernet Sauvignon
– Orlando Jacobs Creek Shiraz Cabernet
– Wynns Coon Warra Estate, Cabernet Sauvignon
– Deakin Estate, Shiraz
– Wyndham Estate Bin 555 Shiraz
– Rosemount Shiraz Cabernet
– Yellow Tail Merlot
5. Australian White Wine
– Wynns Coonawarra, Chardonnay
– Yellow Tail Chardonnay
– Deakin Estate Sauvignon Blanc
6. Italian Wine
– Ca'montini, Chardonnay IGT (White)
– Ca'montini, Bardolino Classico (Red)
– Ruffino Chianti
7. Liqueurs
– Bailey's
– Malibu Coconut
– Green CDM
– Grand Marnier
– Cherry Brandy
– Cointreau
– Galliano
– Sambuca
– Triple Sec
– Blue Curacao