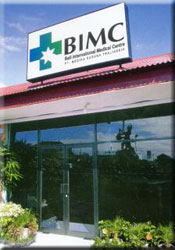 This hospital is situated just 10 minutes drive from the international airport and minutes from the famous Kuta area. BIMC provides training and education program for all medical staff, including sending them to Australia to receive training and valuable experience in medical practice with western standards.
Centrally located on the By Pass roundabout in Kuta makes it easily accessible from any location. BIMC is managed and staffed by experienced Doctors, Nurses and Administrators both Western and Indonesian who are on hand to assist you with any medical problem that may occur. You can relax in comfortable surroundings knowing you are cared for by friendly trained and skilled staff. Communication has never been easier in a foreign country.
---
| | |
| --- | --- |
|   |  The medical centre is equipped with: |
 Two private consulting rooms
  Emergency area
  Observation facilities
  Pharmacy on site with an extensive range of drugs
  Resuscitation equipment
  Cardiac pulmonary equipment
  Monitors minor surgery equipment
  Ambulance.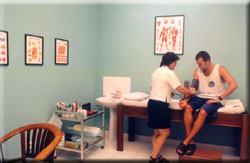 Services and facilities:
Consultation Room
All associated with the Center for Local Area Network (LAN) is a computerized medical system.
Space Observation
provides full monitoring for observation of stabilization, or while waiting for medical evacuation
Minor surgery / treatment room
separate medical environment and sterile for minor surgical procedures and routine medical care and sanitary napkins.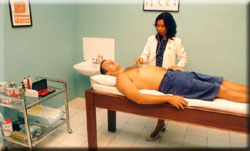 Pharmacy
Available for many prescription drugs Psychiatrist available for 24 hours for psychiatric consultation and intervention.
Immunization Services
Complete the standard vaccine available .Travel Health in providing the travel industry from around the world. BIMC is one of the leaders in the health field trips, provide international standard medical care including preventive prophylaxis.
Program for general medical check-up – to identify risk factors and pre-sign major diseases such as cancer, heart disease, diabetes and high blood pressure, etc.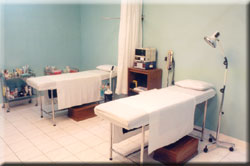 Physician referral
Available a complete list of specialists and patients can see their own specialist practice and they were given a letter of reference. BMIC also can consult with doctors dinegaranya and make referrals to hospitals in Australia and Singapore.
Insurance Program
Membership program that gives patients to join and receive outpatient care at no additional cost. In addition, medical evacuation and repatriation coverage around the world are in the membership program. BIMC may cooperate with the insurance company or emergency assistance overseas.
Trauma / emergency care
Equipped with cardiopulmonary resuscitation, ECG, defibrillator to the heart, vital signs monitors, infusion pumps, ventilators and other equipment necessary to handle any type of medical emergency or trauma. And specialist staff available on call 24 hours a day.
Centre Cardio procedures – available a variety of intervention monitoring and cardiac devices.
Emergency Care Center – 24 hours a day with the staff and equipment in the emergency room and trauma International.