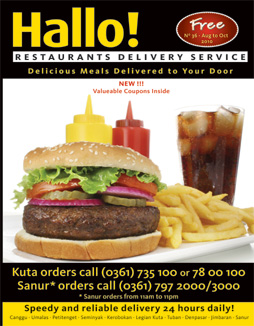 Hallo! Restaurants is the first company in Bali, offering home delivery for clients, expatriates and tourists living in hotels or in their own bungalows and villas.
The experience of recent years in this period makes us Number One Bali delivery services. However, Hello! The restaurants are dedicated to providing our restaurants associated with a fast, efficient and easy to use home delivery services of food produced by them.
To cope with increasing demands from customers, "where are the menus of the restaurants selected in an international cuisine each respective specialties, from Chinese to Thai, French, Italian, Greek, Indonesian … and more!  Hallo! Restaurant magazine has become a "bible of food."
Hallo Restaurants is a food-Bible, which contains all the restaurants selected menu.several countries with their specialties, from China to Thailand, French, Italian,Indonesia Japan Mexican, Greek … .. And much more!
---
Page food menu restaurants and will be presented by Hallo Restaurants" delivery – service. Any restaurant and choose
For your food directly by calling Restaurants Hallo!
Terms and Conditions
How to Order
To order by phone: Call Hallo! Dining 78 00 100 735 100, 200 or 735 735 300,
Kuta area and 200 797 797 3000 for Sanur are, our friendly customer service specialists will help you.
AreaDelivery shipping for each zone
Shipping charges are choosing a pointsonly. 5000 will be applicable for any additional selection that point.
Rp 12,000 :  Sanur Area
Rp 12,000 : Kuta, Legian, Seminyak, Oberoi, Petitenget Belig, Batu
Rp 14000  : Tuban(Puerto del Aire), Umalas
Rp 17,000 : Canggu (max. Pantai Padang Lenjong) Near Denpasar
Rp 22000  : Far Denpasar, Jumbo (max. McDonald), minimum Rp. 100,000 are applied
Rp 22,000 : Delivery of the Cross (Kuta Kuta or Sanur in Sanur)