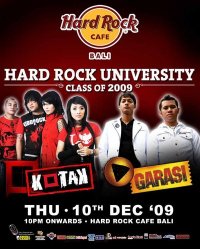 Two of the hottest up in coming bands ending at the tip of this 2009… Sing a long with 'em… coz we all will.
Watch at the Hard Rock Cafe to the schedule:
– Starting December 10 at 22:00
– Completed December 11 at 01.00
Do not miss it only at the Hard Rock Cafe Bali, Jl. Kuta Beach.
Come or you regret it!