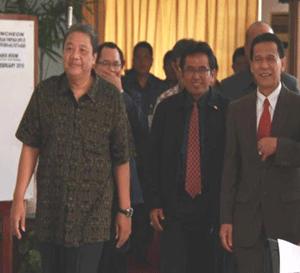 BPK RI held a meeting with a local government area of Bali on Monday (22/2) yesterday, the government also attended the East Nusa Tenggara, West Nusa Tenggara and Maluku in the Grand Bali Beach (GBB) Sanur. The meeting aims to promote the effectiveness of the settlement as his follow-up results of CPC by the local government to improve transparency and professionals in the area of financial accountability.
Governor of Bali in a speech read by Vice Governor of Bali, Drs. AA Ngurah Puspayoga welcomed the initiative taken by BPK RI. Such meetings can be used to mobilize communications and synergy between local and supervisory functions can BPK.sebuah is effective if the publication of the results of monitoring can reduce the information gap between management and the government as a sovereign people.
This meeting is expected to open the discussion and exchange of opinions and perceptions related to the settlement efforts follow CPC examination.
Is accountable in the implementation of performance budgeting and the obligation to prepare financial statements and performance in a responsible manner, so that no matter trapped in the findings and follow-up results of a complex investigation.
Governors also expressed some constraints local governments to follow up the results of CPC recommendations.
Among the follow-up results of the CPC examination is not completely unpublished, still the occurrence of generalization inspection findings and recommendations are often multiple interpretations examination.