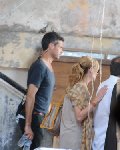 After dyed demo Bentuyung Village, Ubud, is now filming Eat, Pray, Love, starring Julia Roberts artists in the Market Ubud, Gianyar, colored with a camera confiscation of foreign tourists. The camera is deprived of foreign tourists was a bodyguard for the course of shooting fun photographing.
EPL movie starring Julia Roberts artist in Ubud Art Market is different than any other location. This time, the film stars Eat, Pray, Love (EPL) this seems obvious pacing in Ubud Market.
The eyes may freely view, but the camera or other documentation tools is not allowed by the filmmaker.
When Julia Roberts was in the market, a foreign tourist was suddenly pulled out a camera and take action jeprat-snap.
This bule action did not last long. Direct camera confiscated by a bodyguard who is part of the shooting crew.
Traditional Bendesa Ubud, Tjokorda Kertiyasa when met on the set admitted his side had done socialization and transparency about the implementation of EPL filming.
"We have to disseminate to the public understands this filming process. And the result feels like for example in the region Penestanan, Ubud, when we've explained to people, they finally understand, whereas before it had a hot area, "said the man in black glasses like this.