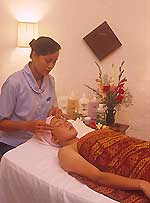 The Spa is set in spacious Balinese style buildings enhancing your feeling of relaxation and the touch of Bali.
Imagine being pampered by skilled masseurs and health therapist. The spa offers a range of rejuvenating treatments. From aromatherapy to detoxification treatments to the famous Indonesia lulur. If it's not enough take a plunge to the Jacuzzi.
Massage
Face and Body Skin Care
Hair Styling
Nail care
Aroma therapy
Health Center
Colonic Hydrotherapy: open soon.
Total tissue cleansing
Try our Jet Leg Massage to ease your travel stresses, Sari Segara Scrub or the up trend 2 Hours Spa Package (foot bath, 45 minutes massage, lulur body scrug, milk body mask, foot reflexology, ginger tea, steam bath, sauna, hot/cold whirl pool).